This article was originally published on LinkedIn.
"If you identify one great human initiative from the 20th century, the ability to have population wide access to antimicrobials has probably saved more lives than any thing else at any point in human history." This remark was made during Minister Hunt's visit to the University of Technology Sydney on Thursday August 22, 2019, to formally launch the OUTBREAK project.
OUTBREAK's chief scientific officer, Professor Steven Djordjevic says: "OUTBREAK will not replace the need to develop new antibiotics nor the need for alternatives to antibiotics; but it will buy us time, extend the life of new antibiotics, inform new strategies and new tools to reduce the health and economic burden from infectious disease."
The one million AUD grant for OUTBREAK is from the Medical Research Future Fund Frontier Health and Medical Research program (stage one), which is 'designed to create opportunities for researchers to form collaborations to explore bold and innovative ideas' in order to 'deliver better and more advanced health care.'
As a big data project that brings together information from humans, animals, plants and the environment to address the location-specific and person-specific threat of an antibiotic resistant infection, OUTBREAK's AI-powered system will overcome many of the deficiencies inherent in current surveillance systems that are largely retrospective and suffer from massive data black holes.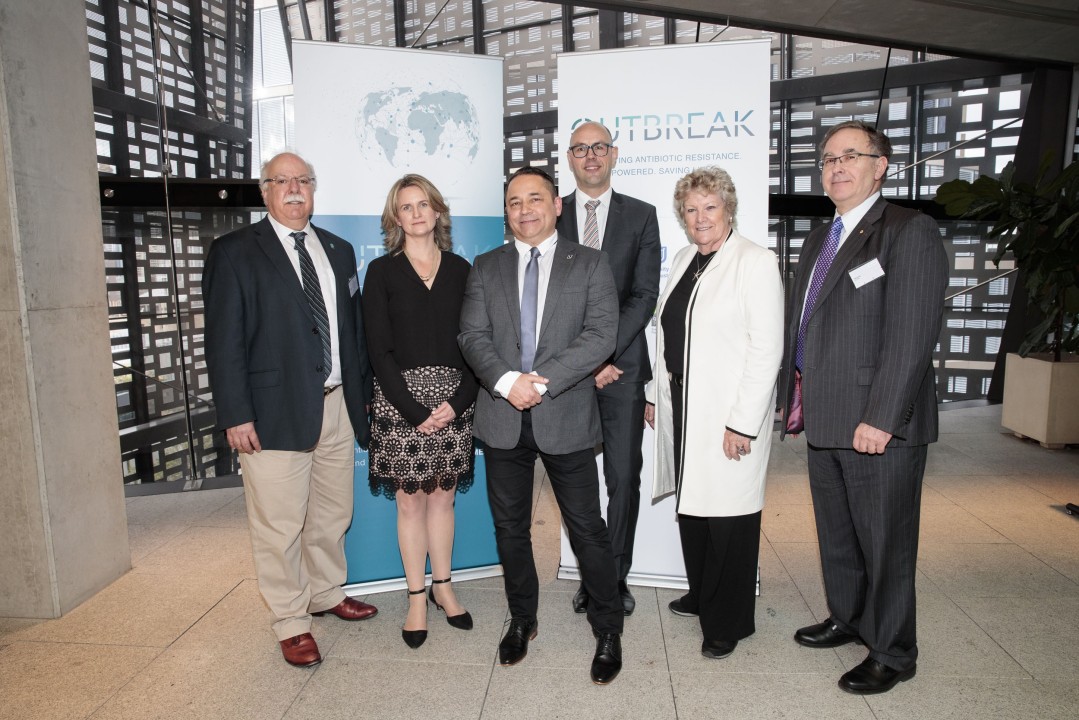 UTS Vice Chancellor Dr Attila Brungs noted that OUTBREAK typifies what is critical for the future of research and what is needed to ask the really big questions in order to have global impact. "The OUTBREAK consortium shows what is possible when we create the right sort of external collaborations cutting across areas of expertise from clinical insights to risk analyses, environmental monitoring, behavioural science and artificial intelligence."
Eight weeks into the grant, our leadership team has put in place a governance structure, held a kick-off meeting, developed product use cases, and recruited key positions to ensure delivery of the proof of concept. We have also started collating the genomics datasets that will inform our system and have a pathogen agnostic approach to tracking AMR that is already yielding some interesting insights.
At the launch, The Hon. Jillian Skinner, former NSW Minister for Health and OUTBREAK Advisory Board Chair finished her speech by saying: "It is surveillance that will show us where the greatest AMR burden is and where we can deploy our resources and spend our precious healthcare dollars most effectively … the best drug-resistant infection is the one that never occurred."
And that is why our consortium of fourteen organisations that span academia, government and industry end users believes so strongly in a One Health surveillance system.
—
OUTBREAK stands for One-Health Understanding Through Bacterial Resistance to Antibiotics Knowledge.
OUTBREAK is one of 10 successful projects to receive a one-year stage 1 grant. It will lay the foundation for five years of MRFF funding of up to $20 million/year to develop and deploy the new technology.
By Branwen Morgan,
OUTBREAK, CEO